Regalia Information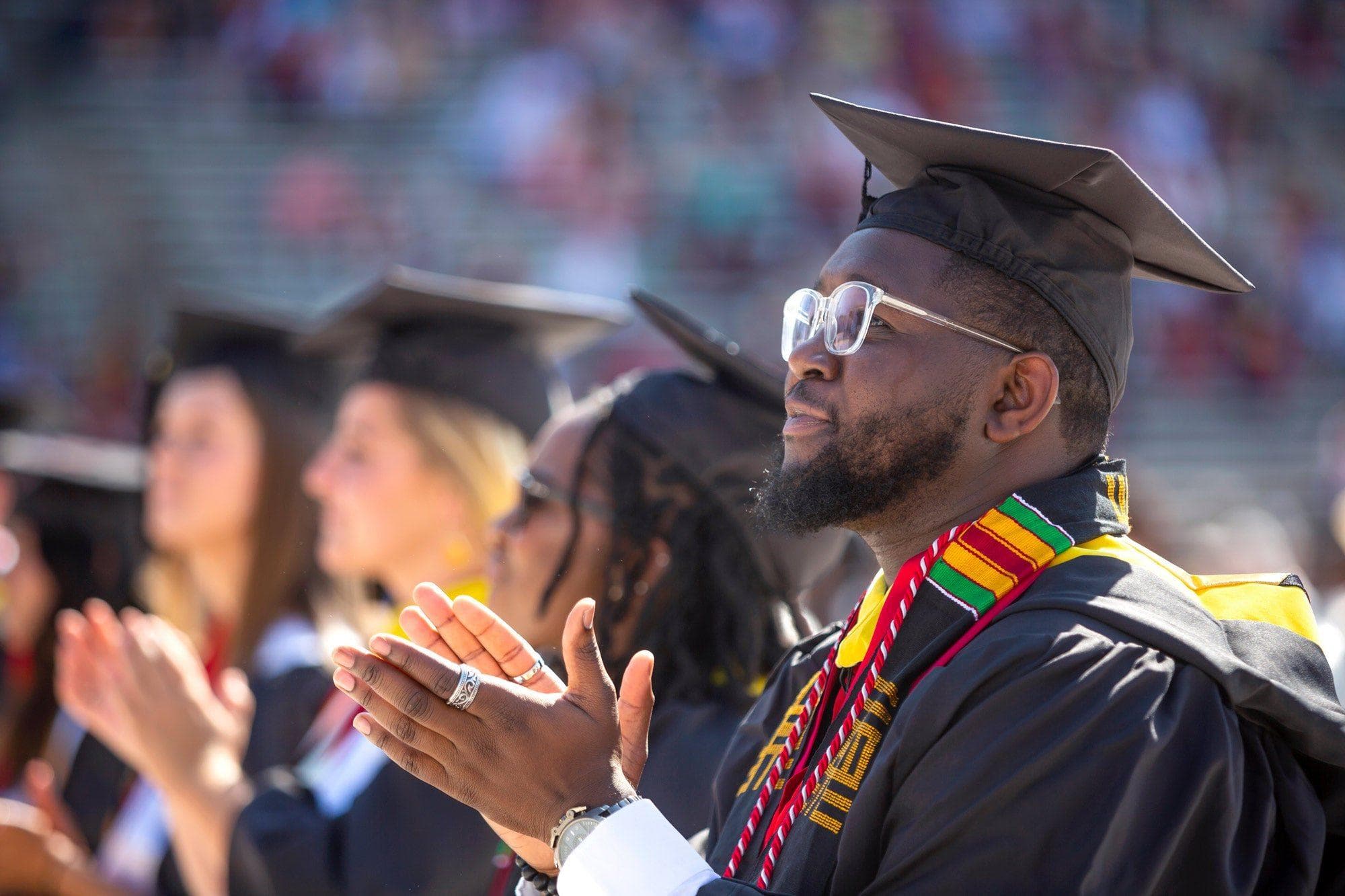 Academic regalia are the traditional dress for degree candidates participating in college, school and department convocations, as well as the university-wide commencement ceremony.
For those earning a bachelor's degree, a black gown and mortarboard are worn. A black tassel with a custom UMCP medallion is attached. A custom UMCP red stole completes the regalia for bachelor's degree candidates.
| | |
| --- | --- |
| Online Ordering Deadline: May 4, 2023 | Price: $91.75 |
---
Ordering and Purchasing Regalia
On Campus (University Book Center)
Academic regalia is available for purchase from the University Book Center (UBC) beginning November 16. The UBC will continue to provide regalia services up until Spring commencement (May 22, 2023). We suggest purchasing early, as gown sizing and hood colors may be limited as the ceremony date approaches. Along with full regalia packages, the UBC will stock individual pieces, including the tassel, stole, and hood.
Order Online (Oak Hall)
Regalia will be available to order online directly from Oak Hall for a limited time. Orders will ship directly to the customer. Please allow 7-10 days to arrive. Please note that Doctoral Rentals will not be available online. Visit the University Book Center for ordering.
Note: Flat Rate $15.95 Shipping charge will apply to all online orders.
For Candidates | Ordering Link Available October 15, 2022 – May 4, 2023
---
Events
Grad Fair
The University Book Center will host a Graduation Fair on March 8 & 9, 2023, from 10:30 AM – 4:30 PM. The event will include regalia fittings and purchasing. Candidates will have an opportunity to order announcements & class rings. Special pricing on diploma frames, and there will be a professional photographer available.
---
Faculty Resources
On Campus (University Book Center)
The UBC will coordinate and order bulk department rental requests. Please contact your department's commencement coordinator for assistance or visit the UBC bookstore for more information.
Order Online (Oak Hall)
For Single Faculty, Staff, & Administration Rentals | Ordering link available March 14 – April 17, 2023.
All online orders are shipped to the UBC for pick-up.
The UBC will place orders for all bulk department faculty, staff, and administration regalia rentals. Requests are due no later than April 17 and will be available for pick-up the week of May 8. All rented regalia must be returned to the University Book Center no later than June 2, 2023, to avoid a $200 non-returned vendor fee.
---
Regalia Support
Refunds and Returns
The UBC will offer a full refund for regalia returned no later than May 18, 2023, in its original condition with proof of purchase.
Online order refunds and returns must be shipped back to Oak Hall within two weeks of receiving items, and they must be unopened. For exceptions and more information, contact: Customerservice@OakHalli.com.
Contact
Julia Gall, ADM, Operations
Email: JGall1@umd.edu
University Book Center
Stamp Student Union
Visit OneTerp.com for more information.